So it's Wednesday, which means it's time for none other than What I Ate Wednesday. (You can see my first WIAW post here.)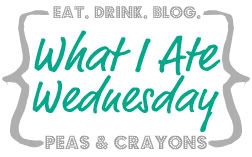 Since I've changed my work schedule (we were given the option of flex time so I now work from 8-5), I now eat breakfast at work which gives me more time to prepare and eat something delicious. Bring on the oats!
These were quick cooking oats prepared with 1/2 cup almond milk and 1/2 cup water and 1 teaspoon of chia seeds. After it was done cooking I added 1/2 teaspoon of agave, 1 spoonful of sunflower seed butter, 1 tablespoon of granola and 1/2 of a gala apple. I love oats for breakfast because they fill me up better than any other food and keeps me full until lunchtime.
For lunch I had the overwhelming craving for a chicken salad sandwich and boy did this one deliver! Chicken salad on a whole wheat hero with lettuce, tomato and spicy mustard. I may have to get this today because just thinking about it is making me hungry.
I ordered a shipment of supplies from IHerb and one of them was wheatberries. I had never tried them before but Dan eats them at some place by work so I figured I'd add them to the cart. Boy am I glad I did! They taste kind of like brown rice but had a great new texture. I put some roasted veggies, which consisted of brussel sprouts, zucchini, and red peppers on top of the wheatberries. I also baked some chicken breasts then pan roasted them with lemon pepper seasoning.
I rounded out the night with some Cheez Its and a glass of white wine.
Holy Hills
So I told you about the Bootcamp I am doing and so far, it has been great! Yesterday's exercise called for 50 minutes of cardio, which fit in perfectly with my half marathon training program. I was scheduled for 3.5 miles and I knew I wanted to incorporate hills into my running. I searched around and found this great workout. I did it by the book and added in a 5 minute warm up walk and a 10 minute cool down walk to make sure I reached my 50 minutes of cardio.
Give this workout a try if you're looking for a manageable challenge on your shorter run days!
I'm off, have a great day folks!